Here are some behind the scene photos of putting together Mallory's invitations. Mallory wanted an elegant look with a modern feel. She sent over some images for inspiration to show me things that had caught her eye along with images of some of her wedding decor. From there, I started getting busy with design. Since she happens to be one of my very best friends and I'm her Matron of Honor, I am familiar with her style. The great thing about this design is that it's easy to use hints of throughout her wedding. Love it.
To complete this look, Mallory used a black envelope and addressed them with a white pen. I personally love white ink on colored paper!
I created the custom address stamp for the return address on her envelopes for use with a white inkpad. This is a bonus because now she has an awesome return address stamp ready and waiting for their first Christmas cards as a married couple!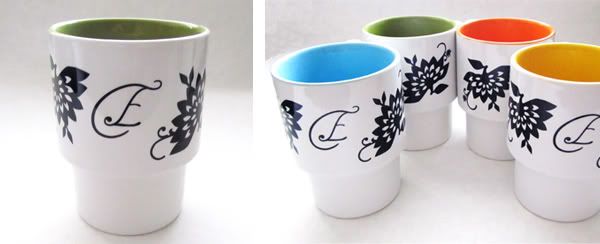 Here are shots of custom mugs I made for Mallory; this was her bridal shower gift from me. The reason I love this (she loved them too) is because it is a daily reminder of her upcoming wedding. Long after it is over, she'll have these mugs as a reminder of her day.